The Firm. This is England '86. Hanna. Breaking Bad! This is just some of the film and TV work that 80s Casual Classics has proudly supplied costume for. Our specialists worked closely with the directors and producers, providing research and advice on recreating the elitist looks of the 80s. It was an honour to work closely with critically acclaimed directors such as Shane Meadows and Nick Love whilst they payed tribute to the truly unforgettable casual era. 
Look out for our very own Neil Primett on set somewhere!
The Business (2005)
The Business, written and directed by Nick Love, was the film that launched 80s Casual Classics in 2006 with first re-issue stocks and an advert within the DVD booklet. This film was the first of its kind to showcase and draw upon the elite casual styles and clothing worn in the 1980s in great detail. The sharp, cool and bright pieces used by Nick Love almost single-handedly kick started a new wave of 80s revival that saw Sergio Tacchini & Fila re-release their most iconic products that diversified youth culture nearly 30 years ago.  
Danny Dyer plays Frankie (pictured below), a small time hood who escapes to southern Spain in the 1980s. He quickly falls in with Charlie (Tamer Hassan), a local club owner who happens to be partners with vicious gangster Sammy (Geoff Bell). Sammy's none too happy about the growing friendship between Charlie and Frankie, particularly when they go into business together. To make matters worse, Frankie finds himself falling for jealous Sammy's flirtatious wife, Carly (Georgina Chapman).
Our coverage and links with The Business DVD ignited much interest in period old school classics and relations developed with Nick Love. While our customer base grew as did confidence to run with a youth passion for 80s clothing mixing with Fila and Sergio Tacchini to exclusively re-launch some popular pieces.
Nick Love directs with a real sense of pizzaz. His sassy production and vibrant, powerful imagery gives the film an overt Balearic feel, and makes the most out of the incredibly cool casual clothing. The Business is an amazing watch and great way to see some our most popular products on show.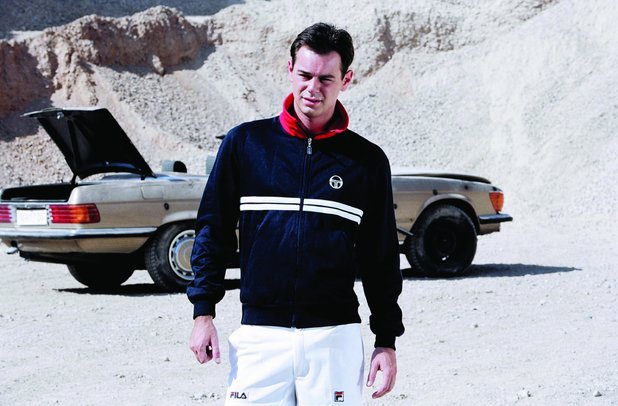 The Firm (2009)
After his triumph with The Business, Nick Love followed it up with "a fresh take on a cult classic timed earlier 80s to draw on all things casual", The Firm. Nick Love skillfully highlights the admiration of others for the brave elitist sportswear and affluent oneupmanship that the casuals brought to the streets and terraces. Anyone spending too much time comparing it to the original fails to appreciate the point of The Firm (2009). 
Casual clobber a plenty, Nick Love established relations with 80SCC to help track down lorry loads of vintage, original costume for The Firm. With so many classic 80s styles not yet re-released or readily available, we grew our 'post-Business' collection and chased key retro items for key characters and to achieve high levels of authenticity. After The Business resulted in a re-launch from the likes of Fila, Sergio Tacchini and Diadora it was unsurprising The Firm caused a similar reaction. A reaction that has seen 80s team work with Fila, Sergio Tacchini and Ellesse ito ensure some great releases at high quality specification. 
Perhaps the most significant re-launch seen in the wake of The Firm was the Fila Terrinda MK3 exclusively sold on 80s, This style came back to light in THE BUSINESS and immediately after The Firm's release. 
Nick Love supplied his Red and French Blue Terrinda's for the film acquired for him by 80s Casual Classics and along with a few other collectors we made sure more than 20 originals were on set. 
As The Firm was released in 2009, 80s Casual Classics hosted its own premier in Bedford in which many of the cast and crew were in attendance.  The day was extremely special not only due to the films release, but also because it coincided with the re-launch of the Fila Terrinda. We were joined by hundreds of like minded casuals from all over the country who were all excited to get their hands on the track top. Crowds gathered in Sergio, Fila, Diadora, Lacoste and Adidas gear for what was a remarkable day for adoring 80s casuals. 
After disappearing in 2008 after their initial re-launch, The Firm initiated a second wave of inspiration for Sergio Tacchini as they came back to revive of a few of their most memorable track tops including the Orion (seen worn by Bex below), and the Wilander. In was also in the wake of all this that 80s Casual Classics were able to team up with Ellesse to revive and revitalize many of their most iconic track jackets exclusively from 2010-2013.
 This is England '86 (2010)
Shane Meadows returned fours years after his critically acclaimed cult This is England set in 1983, with another enthralling, fast pace sensation- This is England 86'. From soundtrack to costume, Meadows continues with his mesmeric, subtle identification with youth culture.  
Shane Meadows asked 80s Casual Classics to supply some 80s clothing associated with the casual movement. The costume supplied was used for the casual gang in the sequel Drama (pictured below) riding their classic Yamaha FS1E and Suzuki AP50 moped's.
We advised that the gang should be dressed differently to how the casuals appeared in The Firm. By 1986, the movement had become more mainstream, with baggier clothes and shell suits becoming ever more popular. The gang were dressed to reflect this, with the idea that a few may still be wearing the track tops which they had bought a year or so before.
We were lucky enough to be invited down to the 86' set where we met up with some of our favorite TV stars. Shaun (Thomas Turgoose) managed to get his hands on our Fila MK1 and Sergio Tacchini Dallas (yellow/navy) track tops. Meanwhile, Woody (Joe Gilgun) received a full makeover from Baracuta, courtesy of 80s Casual Classics. They are both pictured with Kev from 80s Casual Classics at the bottom of the page. 
We were also privileged enough to meet Stone Roses front man and music god Ian Brown, who made a cameo appearance as a police officer during the gang fight scene. 
Casuals (2012), Featuring 80s Casual Classics
**Winner-Best Film: Portabello Film Festival 2012**
The insightful filmed story of an often over-looked youth subculture that swept across cities like Liverpool, Manchester and London when football firms stole expensive designer sportswear from the countries they visited. It didn't start with the high-street giants telling these lads what to wear. Instead, they set the trends and the high-street stores caught up.
As the 1980s began in Britain, under the radar the 'casual' had already arrived often known as Dressers, Smoothies seen by some as the move from mod culture. The film touches on how lads today are buying back into a period when such culture existed and a purpose to stand out and be counted, in many ways how we see youth today buying on 80s Casual Classics. This is an insightful and revealing look at how the football casual single-handedly revived the men s fashion industry to leave a legacy that is still having an impact on today s label-crazy youth. 
Urban Edge Films have finally lifted the lid on the Casual movement with this superb documentary looking at the styles and the attitude that under-pinned the 80s Casual. From Adidas and Fila to Fred Perry, Stone Island, Lacoste and Burberry, this film shows how the need to be seen in the right clothing was vital to the 80s Casual.
An overdue, yet superbly researched and produced, documentary, 'Casuals' is a must-see film for followers of youth culture as well as those who remember the movement itself. 'Casuals' demonstrates how an underground movement changed the face of fashion around the globe by showing and proving on the streets of Britain, all without the push of a music-led media revolution. 
Written by Cass Pennant.
Casuals is available to download and watch from iTunes, Amazon, Sony, Google and Xbox and on demand from 28th December 2015. 
https://itunes.apple.com/gb/artist/cass-pennant/id547159978
Casuals includes footage of 80s Casual Classics. You can watch a clip on our About us page.
The Hooligan Factory (2014)
The Hooligan Factory is the first movie spoofing the 'Football Hooligan' films of the noughties. We were lucky enough to see an advance screening which had us crying with laughter. It draws upon humor from some past great football culture films brilliantly. We sent them a number of Fila Terrinda's in which they customised with their own 'THF' (The Hooligan Factory) badge to replace the classic Fila badges to add further emphasis to the 'spoof' concept of the film. 
The Story
Danny wants something more. Expelled from school and living in his grandfathers flat, he longs to live up to the image of his estranged father Danny Senior. Sent to prison for force feeding a judge his own 'syrup' Danny Senior was a legend and Danny is looking for a way to emulate his father's achievements and rise to be "top boy."
Meanwhile, in Wormwood Scrubs prison, legendary football hooligan Dex is about to be released. Dex is on a quest of his own, one of vengeance against his nemesis and rival firm leader The Baron. But when Danny and Dex's paths cross, they embark on a journey as old as hooliganism itself.
Dex, Danny and The Hooligan Factory travel the length of the country on a mission to re-establish their firm's glory days. However, the police are closing in and we get a sense that the Hooligan Factorys best days may be behind them, but with Danny on their side, and Dex finding his old form who knows where this may lead.
After all….Its a funny old game
We have loved every second, working with the makers of these fantastic pieces of cinematography. We will continue to help and support young British film makers, particularly those paying tribute to a memorable casual movement that we, and many others look back on with great nostalgia.